Movie poster for Kit Kittredge: An American Girl

I
t's been months since I last saw a movie in the theater. Not because I've gotten tired of it, in fact, I like watching movies. It's just that at the end of the work day, my feet and brain's homing devices are locked on HOME.
Today, being down with fever, I had the opportunity to scan what's on the TV. I did a double run through of the channels on cable and other than a rerun of
National Geographic's Great Migrations
series, nothing else interested me. Randomly, I punched out numbers on the remote control and saw credits for a just concluded HBO movie. So, I decided to check out the next feature film.
In the opening credits, I thought it was just going to be another period movie, what with the 1930s~1940s feel and memorabilia being shown. I even hardly glanced at the screen, while trying to get comfortable and scheduling my next round of meds. What caught my eye though was that shot of an old camera propped against a wall. I thought... "Hmmm.... what an old camera... nice prop!" Next, I heard the unmistakable tap of typewriter keys being punched. That sound made me nostalgic of the time I was still in school and was still using typewriters to do my reports. Ahhh... the rhythmic typewriter tap... Definitely music to my ears. That made me stop, sit up straight on the bed and pay attention. Little did I know that that camera and typewriter set me up for one of the best movies for kids that I have seen.
Have you ever noticed that amount of cussing and cursing injected in movies nowadays? I feel dismayed by it. I feel as if the scriptwriter's only way out of writer's block of what to make the characters in a movie say is to pepper the dialogue with expletives and inappropriate language.
In this movie, thankfully, in the opening scenes, I found the characters dressed up so conservatively and talking in complete, polite sentences charming. I knew then that I would have a reprieve from all the "macho-cursing" and "bully" language present in every other movie in Hollywood.
The story of
Kit Kittredge: An American Girl
is about a 10-year old girl living during the Great Depression. She (Abigail Breslin) lives with her mother, Margaret (Julia Ormand) and father Jack (Chris O'Donnell). In her tree house in their backyard, she types up stories of the goings-on in the neighborhood in the hopes of becoming a reporter one day and seeing her stories printed in the Cincinnati Register newspaper.
As Kit works on fulfilling her dreams, their friends and neighbors' dreams shatter as job losses and home foreclosures increase. Here is where viewers are given a sharp insight into what prejudice and social segregation does in society. I am thankful though that the story shows that while her mother's friends have drawn the line between the haves and have not's, Kit's family have extended a charitable hand and heart to those whose futures have suddenly become bleak.
As the Depression continues, Kit's family is suddenly torn apart as her father leaves home to find work in Chicago. Left to fend for themselves while her father is away, Kit's mom moves them into the attic and then to the sewing room to accommodate boarders to make ends meet. They share their home with Mr. Berk, a magician (Stanly Tucci), Miss Dooley, a dance instructor (Jane Krakowski), and Miss Bond, a mobile library driver (Joan Cusack).
Because of hard times, a series of crimes have been committed in the neighborhood, and even Kit's house was not spared. All of these were blamed on hobos who lived in a jungle near the Ohio river. Here she meets hobos Will (Max Thieriot) and Countee a.k.a. Constance (Willow Smith). When the muggings and robberies are pinned on Will, Kit refuses to believe it and sets out to investigate with her friends Stirling (Zach Mills) and Ruthie (Madison Davenport).
While I am not really going to divulge the exciting climax, I'll just tell you that what the kids uncover brings the characters in the movie into a new light. The movie also shines a light on true dignity... how it shines in times of adversity, and tells us that with determination, spunk, and keeping her father's words "Don't let it beat you" to heart, any obstacle is surmountable, and any dream can be fulfilled.
For anyone out there still looking for value laden, wholesome movies, keep a copy of
Kit Kittredge: An American Girl
in your video library. It can't be beat. ;-)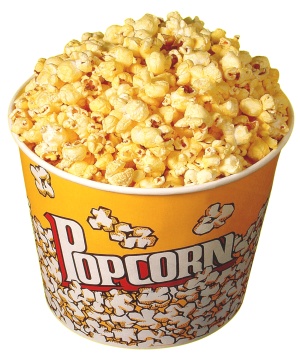 Rating : 5 Popcorn Tubs

©CherWriter 2011.02.05